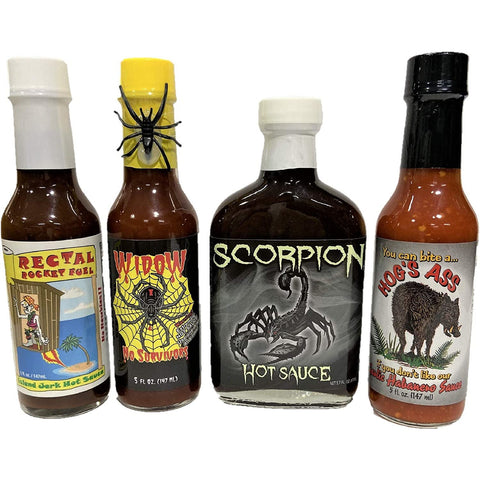 Pain Combo Pack
Pain Pack: This combo pack includes
(1) Rectal Rocket Fuel Island Jerk Hot Sauce - This is our take on a hot jerk sauce. It will surely grab your attention on any food that needs some jerk.
(1) Widow No Survivors - Widow No Survivors holds up to its name with extreme heat in the form of habanero peppers and chile extract. The sauce still holds a great taste due to its soy sauce, garlic, and more.

(1) Scorpion Hot Sauce - Is made with soy sauce, worcestershire sauce, raisins, balsamic vinegar, and more. An interesting combo of things that is a great flavor.

(1) Hog's Ass Garlic Habanero Sauce - A habanero based sauce with a bunch of minced garlic dumped in it for the garlic lovers out there.
The jars are 5.0 fl. oz. and 5.7 fl. oz.  Gift box not included in the combo pack.
The name of this pack is no joke, these sauces pack a punch when it comes to the heat level! Widow No Survivors, being the hottest of the four will surely leave a path of pain in its wake. These 4 sauces are something you or you loved ones do not want to miss out on!
Save $2.00 off Retail !!
---
We Also Recommend