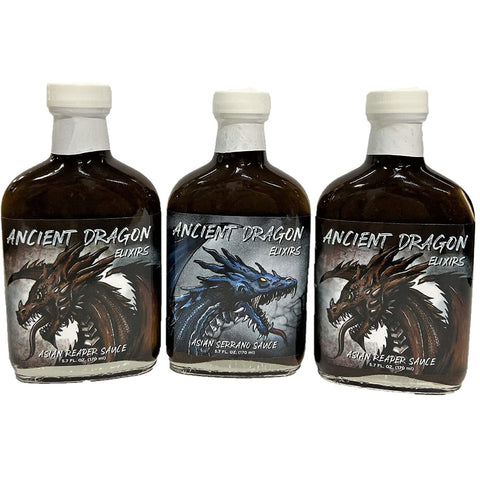 Ancient Dragon Reaper Combo Pack
Ancient Dragon Reaper Pack: This combo pack contains (1) Ancient Dragon Serrano bottle and (2) Ancient Dragon Reaper bottles.  The jars are 5.7 fl. oz. each.  Gift box not included in combo pack.
The Carolina Reaper version is the same sauce as the Serrano but we added Carolina Reapers to kick up the heat! Both of these products bring a delicious mix of Asian flavors to your food. We created these sauces to be a replacement for your normal soy sauce uses along with an addition to other foods you wouldn't normally put soy sauce on. With the amazing blend of Soy Sauce, Teriyaki Sauce, Lemon Grass, Garlic, Scallions, Ginger, and many more you are bound to fall in love and never turn back to ordinary Soy Sauce. These 2 sauces are something you or you loved ones do not want to miss out on!
Save $2.00 off Retail !!

---
We Also Recommend