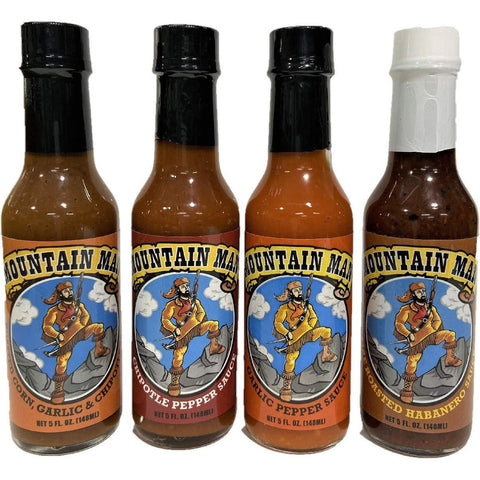 Survivor Combo Pack
Survivor Pack: This combo pack contains (1) Mountain Man Roasted Corn, (1) Mountain Man Chipotle, (1) Mountain Man Garlic, and(1) Mountain Man Fire Roasted Habanero.  The jars are 5.0 fl. oz. each.  Gift box not included in combo pack.
The Survivor Pack gives you 4 different sauces, of the 4 sauces the Fire Roasted Habanero is the hottest of the bunch, but not overly hot and delivers a delicious smokey habanero flavor. The other 3 sauces are very much on the mild side of sauces. The Roasted Corn, Chipotle, and Garlic can be used on just about anything from eggs, popcorn, chicken, rice, cheese and crackers, ANYTHING! Get yourself a Survivor Pack and embrace the real Mountain Man in you! These 4 sauces are something you or you loved ones do not want to miss out on!
 Save $2.00 off Retail !!
---
We Also Recommend