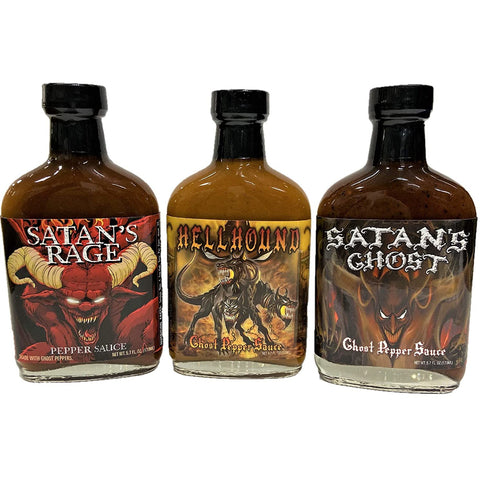 Hells Inferno Gift Box Pack
Hells Inferno Gift Box Pack: This Gift Box Pack contains:
(1) Satan's Rage Hot Sauce - Made with Vinegar, Ghost Pepper, Birdseye Pepper, Chile Sauce, and other spices. This sauce is very hot but very tasty

(1) Hellhound Hot Sauce - This is a Caribbean Mustard style sauce whacked with ghost pepper powder. Great to replace your mustard uses if you want to kick up the heat!

(1) Satan's Ghost Hot Sauce - Our Fire Roasted Habanero Sauce hit with ghost pepper powder to inflict even more heat to the tastebuds! If you love our Dr. Assburn's Fire Roasted or our Mountain Man Roasted Habanero but they just aren't hot enough, this is for you.
The jars are 5.7 fl. oz. each and are packed in a white gift box.
The Hells Inferno pack will grab ahold of you and make you feel like you are burning up in the fires of hell! But at the same time will grace your tongue with some very delicious and unique flavors that even the devil himself approves of! These 3 sauces are something you or you loved ones do not want to miss out on!
---
We Also Recommend