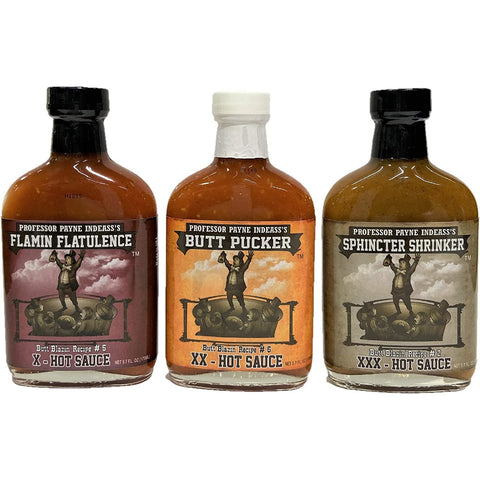 Butt Blazin Gift Box Pack
Butt Blazin Gift Box Pack: This Gift Box Pack contains

(1) Flamin Flatulence - A habanero based sauce with Tomatoes, Garlic, and other Spices
(1) Butt Pucker - A Louisiana based hot sauce with Chile Extract added for extreme heat
(1) Sphincter Shrinker - An Apple Sauce based sauce that will surprise you with how delicious it is, it also packs a mean punch for the heat lovers.
The jars are 5.7 fl. oz. each.  Gift box not included in combo pack.
Professor Phardtpounders Butt Blazin Recipes are very delectable, they will not only get your attention going in but possibly when coming out! These 3 sauces are something you or you loved ones do not want to miss out on!
---
We Also Recommend